This weekend was pretty amazing. Not only did I start on my drivers permit, I was attending a big gaming event for the press – something I haven't tried before. EA was presenting a pile of games and a handful of trailers.
Took me a little while to adjsut to the environment and how they had decided to set up the event, but I took a liking to it after some time. Airflow was really good, so in spite of many people attending, and many hot machines, spotlights and the likes, the air was breathable.
Because of an event earlier that day – National Championship in Fifa – the whole event was a bit delayed, but it wasn't too big of a hassle. If you got bored, you could just play some of the games available. I instantly jumped into the racing seat to play Need for Speed: Hot Pursuit. Yes, there were racing seats. I simply love this game and I want it. Read more about it later on in the article.
Then the stage show began – Frederik from EA Nordic and Fifa producer Marcel Kuhn from Canada showed us their upcoming games, some of them will be mentioned later in the article. Most of the trailers has already been shown on E3 and other bigger events, but watching the show for real was for me a lifetime experience, and I want to experience it again.
In the middle of taking notes, my pen ran out of ink – do you believe it? I panicked, literally panicked. Good thing I wasn't alone at the event, my boyfriend, who covered the event for another website, was by my side, so I ended up borrowing his pen when he wasn't using it.
Some random from the audience was taken up to the stage to play a Fifa match against a national soccer/football player onstage, and the match was showed on the big screen. What an atmosphere – just like a real match with a lot of hooligans – this time accompanied by gamers, who likes sports/social gaming. A Ps3 was up for grabs, and the guy from the audience did end up winning the match and go home with a brand new Ps3.
Need for Speed: Hot Pursuit
This, was for me, the game of the show. Even that I am very aware of the development of graphics in games, and a big fan of racing games – if they have twist, like having power-ups or something else fun – this game is making me drool, so I literally look stupid. Sure, it's the old cop vs. hotrod scenario, but I never get tired of that!
I simply love the feel of the handling, though it felt a bit slow and sluggish at first, but this is one of Criterions trademarks in racing games – they are avoiding the small/RC car feeling that other developers tend to. The game is quite challenging, it's hard to finish if you aren't prepared of the resistance, and I got caught by surprise – though, my controller did disconnect in the middle of the chase…!
It's easy to see that Criterion made the game, and as always, they did a marvelous job of designing the cars, the environment and what makes the game unique. This time it's the leaderboard idea, called Autolog, that makes this game stand out from the rest – and it's even cross platform, so you will be able to challenge your friend, who has the game for another platform! Weather this cross-platform thing will be for the autolog only, or you can race against each other live, is an unanswered question at this moment.
The game is set to a 18th November release in Europe.
Harry Potter and the Deathly Hallows
It seems like the Harry Potter series took a turn in the games series. Up until now the games has been all about collecting, exploring and minigames, but the upcoming title seems to be a shooter and with a darker feeling than the childish looking earlier games. The game will be working with Kinect, Microsofts upcoming motion sensing controller.
No EA autumn event without Fifa. The game is the father of soccer/football games, and it's getting better every year. Once again, EA was able to make something new into the game, and Marcel from Canada was telling the audience about their vision, called Personality+. It changes your player as you play with them – the behaviour and the skill are under constant change.
The customization part seems to be very large – from animation, face expressions, to attributes and team colors. You can even face capture your own face and put it on your player! This time you can create your player and team on your computer via EA's new web creator, which makes it easier and faster than before.
A new sim engine for the management is also made, and it should be even more lifelike than before. Players attributes, this would be how weak and strong the players are, will make an impact on a player vs. player situation on the field.
Not much can change in the music games, but there's a bit change in the upcoming Rock Band 3. The keyboard peripheral is the new big thing, and it seems rather cool – I want this! RB3 is supporting up to 7 players in one band and has 83 songs on the disc, not to mention more than 2000 songs in the store, that you can buy and play in the game.
This is another game that I urge to get my hands on. Epic Games and People Can Fly seems to hit the nail on the head with this game – it's not a typical shooter, it seems so much more fun. I'm really not a fan of shooters, but this! THIS I want – badly!
You can pull an opponent towards you, stun them and split them to atoms with your very powerful machine gun, make things explode and much more. Because of the different ways of killing, each kill can be strategized – and the more you strategize your kills, the more skill points you can get – the faster you can upgrade your character and weapons, the faster you'll be able to make even greater kills! The game is all about skill points.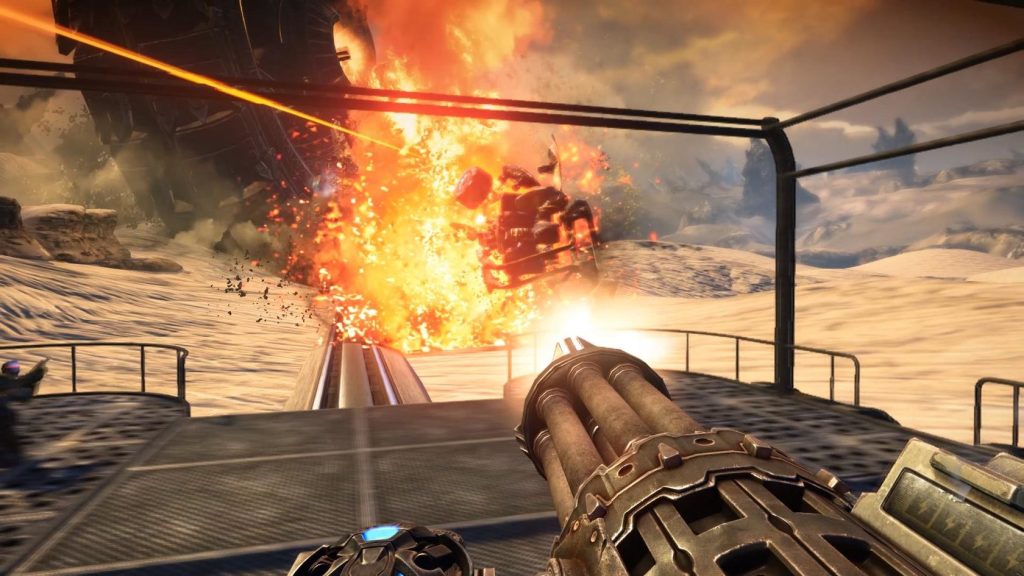 It literally hurts me to admit the following: EA Active 2.0 doesn't seem to work very well. It didn't responded when it was supposed to, and then it responded way too late, or thought it was supposed to do something, when it wasn't. The graphics look like a Wii game or a Ps2 game – I am not impressed. The game was shown on Ps3.
Maybe I should just put the finger in the ground and wait to see more or I get my own, clammy hands on the game.
Last, but not least, Microsoft's upcoming motion sensing controller, called Kinect should be mentioned. I finally got the opportunity to try it out. It seems fun for a few hours with friends, but for core games and gamers, I think it will take a little more time to work out. The device is working very well, but not flawless – who expected that? I didn't.
Kinect can pick you up, even in bad lighting, thanks to the infrared sensor, and it does pick you up pretty satisfying – but sometimes it goes wrong and you have to re-calibrate the device, but this is expected, isn't it?